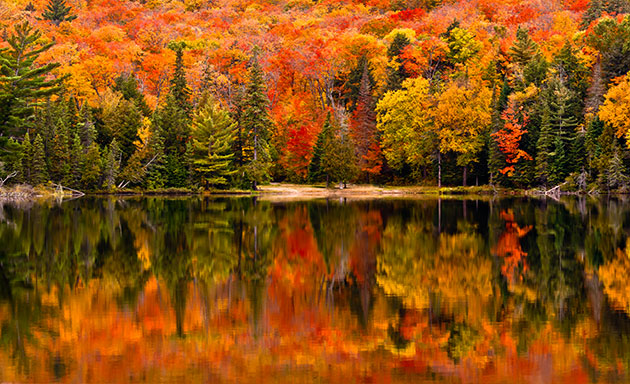 There is no better place to be in autumn than the Lakes Region of New Hampshire. Foliage season is a magical time on the lake, with the ability to see brilliant colors from all different vantage points while not feeling rushed along the way. When you join us for a fall getaway at the Center Harbor Inn, you can have an authentic seasonal vacation while experiencing the striking phenomenon of peak foliage.
When planning your fall getaway to the Center Harbor Inn, be sure to reference the New Hampshire foliage tracker to figure out the perfect time to book your trip. The tracker pinpoints the time of peak foliage across the state of New Hampshire and will provide a solid timeline to reserve your room at the Inn. Once you arrive to your vacation destination you can continue to use the tracker for scenic drive ideas, whether you decide to stay local and take the Lakes Region Tour which will loop around Lake Winnipesaukee (the largest lake in New Hampshire) or travel a little north to view the intense colors along the Kancamagus Highway on a White Mountains adventure drive.
Be sure to pack your digital camera and tripod for this special retreat as you will want to capture all the fall colors that northern New England has to offer. While traveling along your Lakes Region foliage tour, take a pit-stop at Mount Major located right off of NH-11 E for a moderate hike to one of the Belknap Mountain Range's most popular summits. Mount Major is a heavily trafficked hiking destination with a couple different trail options ranging in difficulty levels but each leading to the same summit providing spectacular, unparalleled, panoramic views of Lake Winnipesaukee. Some hikers enjoy a picnic lunch atop the summit while others are content with snapping a few photos of the remarkable views before descending. If you are ambitious enough to take multiple hikes or nature walks during your stay with us, view the list of our favorite spots here, all of which including amazing fall colors along the way!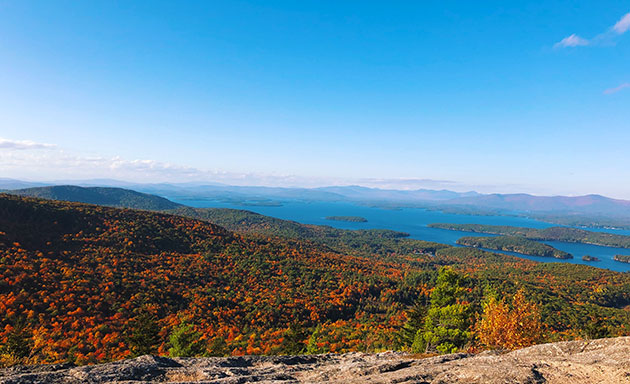 Once you return to the Inn after your foliage tour around the lake, take one of our kayaks out to view nature's fireworks from a different perspective. The lake is lined by various trees providing all different colors including yellows, oranges, purples, and brilliant reds and crimsons. While on the lake, keep an eye and ear out for the Common Loon, a native bird of North America. Loons, also known as great northern divers, are tuxedoed birds known for propelling themselves underwater to catch fish. Loons have a very unique call that can be easily distinguished as they echo across the water. Loons tend to stay on the lake as late as November before migrating to the Atlantic Ocean for the winter. To learn more about this beautiful bird, visit the Loon Preservation Committee, only a twelve minute drive from the Center Harbor Inn!
Paddle back to the Inn and relax your muscles in our four-season outdoor hot tub while you let the brisk autumn air flow through your lungs and take some time to reflect on the beautiful fall day you were able to experience. When you take advantage of our Fall into Romance package, you can receive 20% off your stay for two or more nights as well as a $75 gift certificate towards dinner at the delicious Canoe Restaurant, located just walking distance from the Inn.