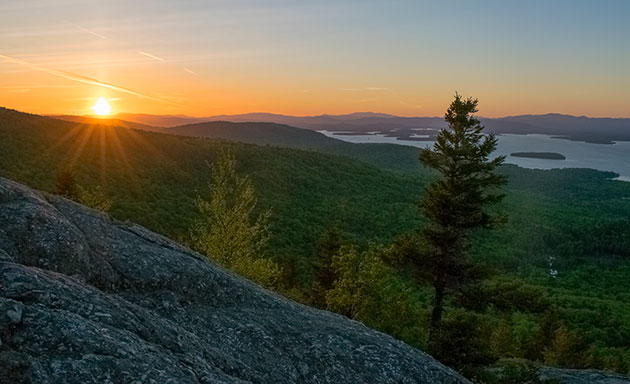 Vacationing at the Center Harbor Inn gives you many opportunities to explore the Lakes Region and experience an authentic Lake Winnipesaukee getaway. The adventures of staying lakeside are endless: kayaking, fishing, paddle boarding, swimming, and boating just to name a few. However, the Lakes Region has much more to offer than just the lake right outside your balcony. In addition to the lakes, tax-free shopping, and many popular area attractions, we are lucky enough to be the home of an abundance of hiking trails and mountains in close proximity to the Inn.
Having the opportunity to get out and enjoy the peace and tranquility of nature walks and mountaintops is an experience you will not want to miss while on your next Lakes Region vacation. Along with taking in the fresh mountain air, there are many additional benefits from hitting the trails including enjoying a great full-body workout, lowering your stress levels, and communing with nature. The region offers trails that cater to all skill levels. Take a look at our top 10 favorites listed below, all of which are located within a half-hour drive from Center Harbor Inn!
Lakes Region Conservation Trust
Located in the Center Harbor Woods, the Lakes Region Conservation Trust is just a three-minute drive from the Inn. There is 224 acres of land which include a network of multiple trails that lead you through the scenic forest where you will be surrounded by the natural habitats of numerous native species.
Belknap Woods
Another option right here in Center Harbor is exploring the Belknap Woods. The Beaver Pond Loop is an excellent choice for all skill levels and can be used for trail running as well. The hike is a 2-mile loop which takes you through 90 acres of land and travels around a pond where there is a good chance you could see some wildlife.
Chamberlain Reynolds Forest
The Chamberlain Reynolds Forest is a 157-acre forest in Center Harbor. The forest holds over 4 miles of gentle hiking trails including the Wister Point Trail, which takes you along the shoreline of Heron Cove on Squam Lake. Other trails include a boardwalk that passes directly over a swamp, direct access to campsites, swimming spots, and beautiful views of Red Hill and Rattlesnake Mountain (keep reading to learn about those hikes!)
Proctor Wildlife Sanctuary
Proctor Preserve is a 47-acre protected area which is maintained by the New Hampshire Audubon Society located in Center Harbor. There is a 1.5-mile loop trail that leads alongside multiple streams and is a good choice for all skill levels. Be sure to pack a lunch as there are picnic tables available in the midst of a beautiful natural setting.
Red Hill
A moderately difficult hike, Red Hill is only a 7-minute drive from the Center Harbor Inn, situated in our neighboring town of Moultonborough. The full loop trail is 3.5 miles in length and reaches an elevation of 2,029 feet. Many advanced hikers will take advantage of the well-maintained trails and use them for trail running. As you approach the summit, you will notice a large fire tower lookout that is easily accessible with panoramic views of the surrounding mountain ranges, Squam Lake and Lake Winnipesaukee.
Castle in the Clouds
Just a 15-minute drive away, Castle in the Clouds offers over 5,500 acres of land with 28 miles of trails to traverse including a range of options for all difficulty levels. Many of the trails offer remarkable views of (over 7) waterfalls, historical sites, Lake Winnipesaukee, Squam Lake and the wilderness beyond. Each Wednesday throughout the summer, Castle in the Clouds hosts Wellness Wednesday where there is a guided hike of the scenic Brook Walk. Be sure to visit the front desk at the Center Harbor Inn before you venture out and ask about our partner coupons for Castle in the Clouds. Although there is no charge for accessing the hiking trails at Castle in the Clouds Conservation Area, the coupons provide reduced admission for the castle tours and exhibit gallery located in the carriage house.
West Rattlesnake Mountain
Just short of a 2-mile round trip, West Rattlesnake Mountain is a popular destination for hikers of all skill levels. Situated in Center Sandwich, within a 25-minute drive, West Rattlesnake has unparalleled views overlooking Squam Lake. The Old Bridle Path is an out-and-back trail which ascends to a rock covered summit which you could spend hours on, taking in the beautiful scenery.
Mt. Morgan and Percival Loop
Sharing a parking lot with West Rattlesnake Mountain, the Mt. Morgan/Percival hiking entrance is just across the way from West Rattlesnake's trailhead. This 5-mile loop trail is labeled as more of a moderate/difficult hike including two peaks, ladders to climb on, open ledges to traverse and caves to crawl through.
Lockes Hill
Located just 24-minutes away in the nearby town of Gilford, Lockes Hill is a loop trail which measures just under 2-miles long. The hike is great for all skill levels containing peekaboo views of Lake Winnipesaukee. Tread lightly as New Hampshire's state wildflower, the Lady's Slipper, is known to grow along the trail edges.
Gunstock Mountain
Sitting amidst the Belknap Mountain Range, Gunstock Mountain, also located in Gilford, has an extensive trail network catering to difficulty levels of all hikers. Gunstock is primarily known as a skiing mountain but they are much more than that. We have partnered with Gunstock Mountain to offer our guests additional discounts to their summer Adventure Park. Be sure to stop at the front desk to inquire about your coupon to use at Gunstock and carve out some time to experience Gunstock's Premium or Discover Adventure programs where you can zipline, take a Segway tour, ride the mountain coaster, and so much more!