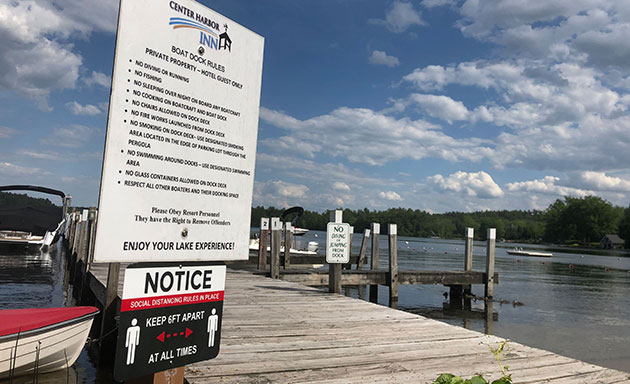 We are excited to announce that the Center Harbor Inn will reopen with reservations beginning on June 5 and beyond. Per Governor's Orders, until further notice, the sauna and continental breakfast will remain closed. Guests are still welcome to enjoy the beach area, the grilling stations and kayak rentals during their stay or just relax and enjoy the lake views from their private decks. Please read on below for special health and safety protocols we will put in place to adhere to federal and state guidelines.
Occupancy will be limited to comply with state and federal guidelines.
To ensure the safety of our guests and employees, all operations staff has been specially trained and equipped with personal protective equipment and sterilization tools.
Reservations staff will be working with operations staff under a coordinated protocol to ensure all rooms remain vacant for an adequate period of time to allow for proper deep cleaning.
No maid service will be performed during these stays but supplies to freshen up your suite can be provided per request.
Limited contact, curbside check-in will be implemented to ensure convenience and safety.
Available Amenities and Services at the Center Harbor Inn:
The beach and swimming area will be open with special provisions to maintain social distancing between lounge setups.
Grilling stations will be available for guests to enjoy the outdoors while cooking up some burgers.
Kayak, paddle boards and pedal boats will be available for rental during specific hours as directed by the desk.
Slip Rentals are available for guest to bring their own boat and enjoy access to the lake.