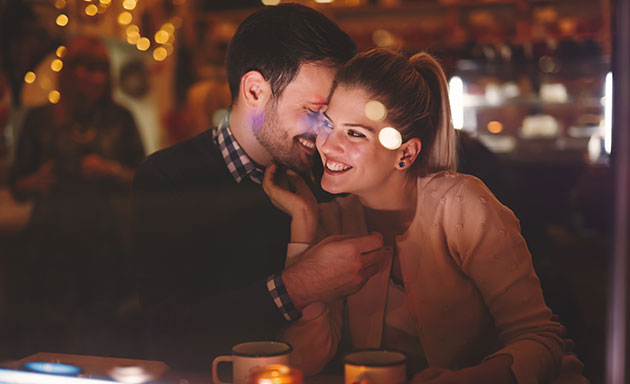 Are you searching for ideas to have the perfect date night? Look no further, as we have all the elements for an evening you won't soon forget! Whether you are looking to celebrate a birthday, anniversary or your just need some inspiration in your relationship, let us help you plan a romantic lakeside staycation.
When you book a stay at the Center Harbor Inn with our Dinner and a Movie package, you will bring the spark back to your love life and have the opportunity to enjoy an amazing getaway together. After visiting the front desk to check into the Inn, stop by your room to drop off your luggage and get a glimpse of beautiful Lake Winnipesaukee from your private balcony. This special promotion includes a $50 dinner certificate for a romantic dinner for two at Giuseppe's Pizzeria & Ristorante and two adult movie tickets to BarnZ's Cinema. While relaxing at the Inn, take advantage of our free WIFI to peak at the menu and view all of the delicious offerings of the Italian-styled restaurant. While finishing up your first cup of complimentary coffee, don't forget to check the showtimes of the movies currently playing at BarnZ's Cinema, just a three-minute drive from Giuseppe's and an eight-minute drive from the Center Harbor Inn. Once your night has been planned, let the date begin!
Giuseppe's, located in the heart of our neighboring town of Meredith, New Hampshire, is a full-service restaurant providing gourmet pizza, pasta specialties, seafood, steak, chicken, veal, sandwiches and a variety of gluten-free options. Giuseppe's offers two full bars serving a diverse selection of beer, wine and spirits and provides live musical entertainment every night of the week. Enjoy a romantic dinner with your significant other with the easy listening of an acoustic or piano performance playing in the background or sing a duet for some live karaoke on Thursday evenings downstairs in The Grotto.
Post dinner, head down the road to the recently renovated BarnZ's Cinema, offering blockbuster hits throughout the entire year. Relax in their spacious new reclining seats while watching the latest box office favorite. Whether you choose a horror, action or romantic film for your date night, watching a movie with your significant other is a great way to spend time together. After the movie, head on back to the Inn to share a moonlit soak in our four-season outdoor hot tub or retire for the night in the comfort of your king or queen sized bed.