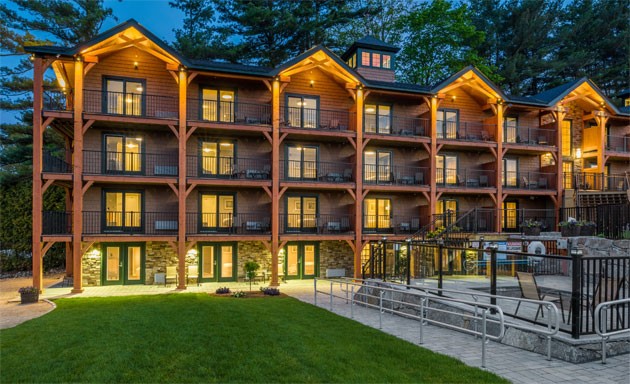 On October 25th, the Meredith Area Chamber of Commerce hosted their annual meeting which included an awards ceremony where local businesses were honored for making a positive impact in the community. With our recent renovations of the inn just behind us, we are very grateful to have been presented the 2018 Community Pride Award for the rehabilitation and reopening of the Center Harbor Inn.
Chamber board of director member Julie Hayward of Hayward & Company presented the award plaque to long-term Path Resorts employee Jill Ober. Julie stated, "Throughout the renovation, they partnered with a number of local businesses to ensure the inn's style and amenities were true to the area and best met the needs of the community and the visitors. The work took longer and cost more than expected (there's a shock if anybody's renovated anything because that is always the case) they were committed to restoring the inn to its glory and filling the large void in a growing and vibrant community of Center Harbor. Today the fully restored inn's Adirondack facade brings new charm to the town along with many new and returning visitors. Guests enjoy upscale amenities and professional staff; the inn has fully reclaimed its place as a premier lakeside luxury resort."
In March of 2016 Path Resorts purchased the Center Harbor Inn and immediately kicked off extensive renovations. The building was completely restructured with new exterior decks, douglas fir clad beam work and decorative cupolas to highlight the new Adirondack style. Interior work included complete modernization of the bathrooms and design updates incorporating rustic tones. Hotel amenities were improved with the addition of a four-season outdoor hot tub including heated walkways, as well as complete refurbishment of the nearly 200 feet of sandy beachfront. After all the updates the only thing that remained the same was the name of the property. Less than a year later, in January of 2017, the extensive renovations were completed and a ribbon cutting ceremony was held to mark the grand opening.
We are honored to accept such a significant award and would like to thank the Meredith Area Chamber of Commerce for presenting it to us. It is wonderful to hear that the community is just as proud of the hard work that went into our widespread renovations as we are. We are committed to providing an upscale hospitality experience that does justice to the beautiful lakeside town of Center Harbor.