As much as we love sunny, beautiful beach days here at the Center Harbor Inn, we know that it's not always possible and that sometimes you need to take a break from the Lake to go explore other attractions in the area. A favorite of ours for both the kids and adults is the Squam Lakes Natural Science Center. It is the center's mission to inform guests about ecology by exploring New Hampshire's natural state through live animal exhibits, educational programs, a public garden, and lake cruises.
The live animal exhibits feature animals native to New Hampshire's landscape and include: Barred owl, white-footed mouse, mink, painted turtle, spotted turtle, snapping turtle, various fish and amphibians, coyote, red fox, gray fox, fisher, bobcat, mountain lion, white-tailed deer, river otter, black bear, Black-crowned Night Heron, Cattle Egret, Great Horned Owl, Red-tailed Hawk, Broad-winged Hawk, Red-shouldered Hawk, Northern Goshawk, Bald Eagle, and Turkey Vulture. It's not every day that you get to see these animals up close and personal, so take your time and enjoy reading the descriptions and participate in the little activities they have set up along the relaxing, wooded nature path that winds through the exhibits.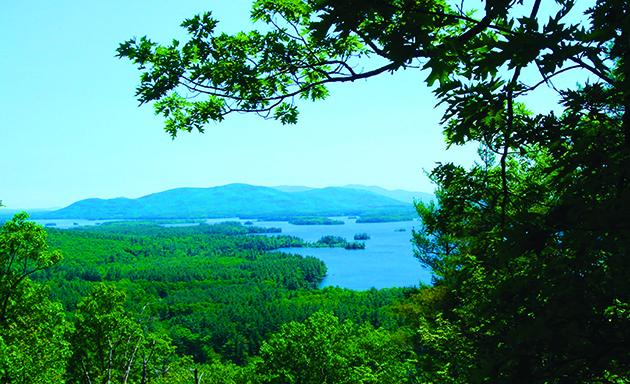 If you're interested in an extended walk, there are hiking trails around the property that range from 1/3 of a mile to a mile long. The Ecotone Trail, meaning edge, shows off the point where two habitats meet, in this case the lake and the forest. The Forest Trail provides insight into the past and present use of the land by humans and the Mt. Fayal Trail offers an elevation of just over 1000 feet and boasts beautiful views overlooking Squam Lake. Guests are invited to use this map for self-guided, nature tours through the trail system.
Trail hours are open May 1 – November 1 from 9:30am to 5pm with the last trail admission ending at 3:30pm. All guests of the Center Harbor Inn are eligible to receive $3 off trail admission coupons, just swing by the front desk and grab one.
With easy access to the science center via NH25B and US-3N it is only a 15-minute drive from Center Harbor, so spend a morning or afternoon visiting the animals and head back to the Inn to enjoy the rest of your day on the waters of the beautiful Lake Winnipesaukee.
For more information on packages at the Center Harbor Inn visit our Packages Page.