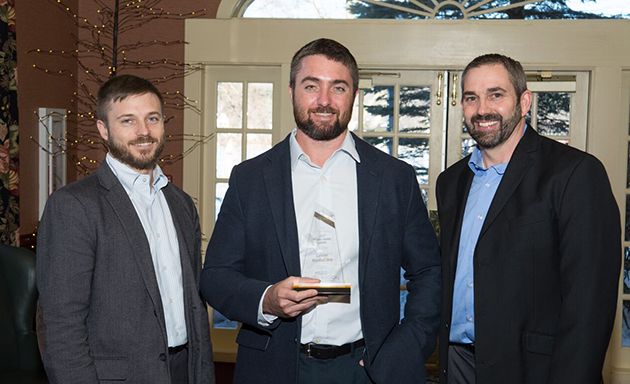 Each year the Lakes Region Chamber of Commerce holds its annual membership meeting where local businesses get recognized for their economic development, construction or improvements in New Hampshire's Lakes Region. We are proud and honored to be nominated and presented with the 2017 Golden Trowel Award for the Center Harbor Inn.
The Center Harbor Inn was purchased in March of 2016 and underwent extensive reconstruction and remodeling under new ownership. The renovation process involved stripping the building down to its studs and completely rethinking the structure. Key changes included the addition of Douglas fir clad beam work to frame out the new decking system, new accent gables to break up the roofline and two large decorative cupolas along the center of the main lodge roof (which became a key piece in the design of our logo).
The interior work echoes the appearance of the exterior with an emphasis on both modern and rustic features. Inside, the main lodge bathrooms were completely gutted and fully tiled with a modern glass panel divider. All new plumbing fixtures were added, custom hickory vanities and floating shelves finished off these spaces. Guest rooms were fixed with all new carpeting, custom furniture and beautiful floor to ceiling hickory headboards with floating nightstand shelves.
The improvements of amenities included a complete refurbishment of the nearly 200 feet of sandy beachfront along Lake Winnipesaukee and the construction of a four-season, outdoor hot tub overlooking the lake surrounded by heated walkways. The new walkways offer direct access to the building including an all new fitness center in the interior common space with an adjacent sauna facility.
With the completion of this extensive renovation, the hotel now provides a high-end, lakeside hospitality experience allowing guests to enjoy wading into the big lake from the sandy beach or walking into town to experience all that Center Harbor has to offer.
We want to thank the Lakes Region Chamber of Commerce for presenting us with this award, it is a true testament to all the hard work that went into this extensive renovation project. We also want to thank Conneston Construction, Stewart Associates Architects, Frances G Hodges Interiors, and Stephens Landscaping for making our vision a reality. Lastly, we want to thank the community and our guests for making the Center Harbor Inn such a resounding success.