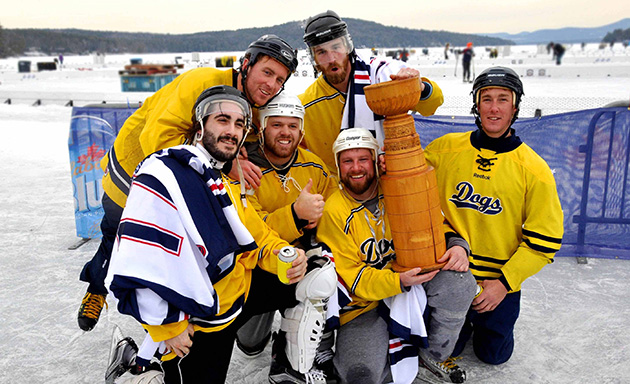 As winter fast approaches and the water freezes over, pond hockey players from all over New England will gather for the return of the 9th Annual New England Pond Hockey Classic taking place February 2 – 4, 2018. Taking over the nearby town of Meredith, the tournament brings tourists from all over the country to experience winter in the Lakes Region. Although the area is known as a summer lakeside destination, we are proud to be able to show off a side that not many people get to experience. The Center Harbor Inn is a great option for New England Pond Hockey Classic lodging.
Just five minutes down the road from the tournament site in Meredith, NH we offer a great Pond Hockey Package as well as group rates so the whole team can stay together. The Pond Hockey Package includes 10% off your choice of accommodations for two or more nights. Amenities at the Inn include continental breakfast to fuel up before a busy day of skating on the ice. Breakfast selections offer locally roasted coffee and locally sourced bagels, as well as fruit cups, hard boiled eggs, homemade granola, yogurt, cereal, and energy balls.
Aside from the great continental breakfast, a favorite amongst guests is the four-season outdoor hot tub with heated walkways and views that overlook beautiful Lake Winnipesaukee. After a long day on the ice, the hot tub is a great way to warm up and continue to enjoy winter by the lake while relaxing those sore muscles.
Heading to the area and aren't familiar with the town of Meredith? Check out our previous blog on Things to Do in Meredith NH for a list of restaurants, activities, and shopping options.