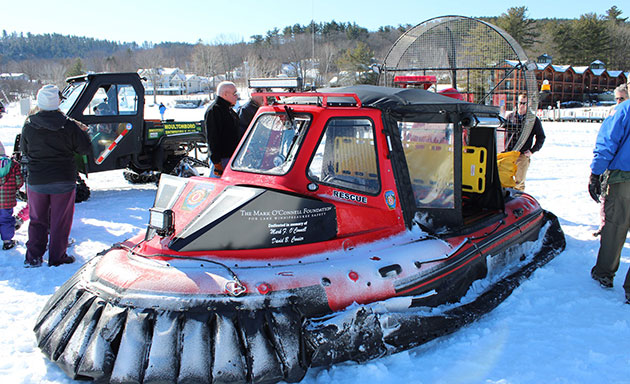 The Center Harbor Skatefest and Winter Beach Party is returning for the sixth annual event taking place on Sunday, February 16th from 11am – 4pm. The event, sponsored by the Center Harbor Community Development Association will be held adjacent to our private beachfront at the Center Harbor Beach. Admission to the party is free and includes hours of fun and entertainment for all ages.
Guests are encouraged to bring their own ice skates however there is much more to this Skatefest than just ice skating! The center Harbor Fire Department will be present demonstrating water rescues and educating techniques on self-rescues. The Moultonboro Snowmobile Club will also be present showcasing their groomers and even offering rides along the lake in them! Attendees will have the chance to see the M/S Mount Washington docked at the Center Harbor port located directly next to all the event happenings. Guests will be able to enjoy music playing throughout the event and warm up next to next to the large bonfire and enjoy delicious s'mores. However don't fill up on just s'mores, there will be complimentary food provided by Canoe Restaurant, E.M. Heath Supermarket, The Mug Restaurant, Osteria Poggio, Piccolo Market, Rubbin' Butts BBQ and Gusto Italian Café.
If you are interested in staying in the area even after the Skatefest party on the lake has ended be sure to check out the current specials the Center Harbor Inn is offering. Enjoy our four-season outdoor lakeside hot tub or warm up in our modern sauna after a long day on the ice. In the morning wake up and enjoy our locally sourced continental breakfast before exploring our quaint town of Center Harbor a little more.