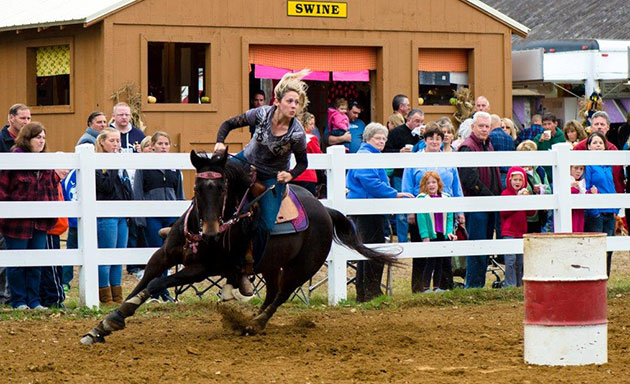 Autumn is fast approaching which means we have an abundance of fall festivals and fairs taking place here in the beautiful Lakes Region of New Hampshire. One fall attraction that cannot be missed this season is the Sandwich Fair, located within a fifteen-minute drive from the Center Harbor Inn. The Sandwich fair, celebrating its 109th year, is an annual event held on Columbus Day weekend and is open Saturday through Monday during the extended holiday weekend.
The Sandwich fair, originally agriculturally based, continues to focus on the state's farming roots with exhibit halls presenting award winning vegetables, oxen and horse showing rings, tractor pulling areas and many more agriculturally founded activities. Whether you are living in the area or just vacationing in the Lakes Region, the Sandwich fair provides a great experience that brings the community together.
The fairground offers free parking for attendees and general admission tickets to enter the fair are reasonably priced at $12 for guests twelve years or older and children under twelve are free! Once you enter the gates there is an abundance of attractions to keep you occupied throughout the day and well into the evening. Grab a fairground map, or print one in advance, to plan your day accordingly. (You can find the fairgrounds map here). The Sandwich Fair offers many exhibits, attractions, and events including: 4-H animal showings and judging, Disc Dog presentations, clowns, comedians, juggling, musical and ventriloquist acts, parades and much more. Be sure to view the full list of the schedule of events throughout the long weekend to get more information to plan your day. In between events and showings, take advantage of some of the traditional and unique fair concessions like: fried dough, candied apples, blooming onions, tacos and burritos, and soup in a bread bowl. The rides at the midway are always a popular attraction and provide both a fun and exhilarating experience for all ages!
Many fair visitors find just one day spent at the fairgrounds is much too short and they cannot take advantage of the various activities, or they are stuck deciding between the Antique Auto Parade on Saturday or the Grand Street Parade on Sunday. Throughout the month of September there is an advance ticket sale where a 3-day pass is only $24. Why not attend all three days and get the full experience? The Center Harbor Inn is conveniently located just fifteen minutes away and is the ideal lodging location for people planning a visit to the Sandwich fair, whether they are attending just one day or all three. By staying at the Inn, you can spend more time enjoying the fair and less time stuck in traffic. Once you arrive back at the hotel after a fun-filled day exploring the fair, relax in our four-season outdoor hot tub or stargaze from our Adirondack chairs near the warmth of our fire pit.